About us
Conscious Atoms, Curious Matter, Special Ingredients!
---
In an industry that is dominated by multi-million dollar businesses, James Robinson Speciality Ingredients stands out as brightly and distinctively as one of our most dramatically-coloured hair dyes. We constantly strive to be an agile and forward thinking company that is focused on giving our customers the right products and unparalleled service.
Our Manchester technology hub is where our products are devised and developed, driven by a dedicated team for whom customer specifications and service is paramount. The state-of-the-art equipment and resources that are needed to formulate, innovate and explore, also ensure stringent quality control. These key elements color the fabric of our business and service.
Our manufacturing base in India further strengthens our capabilities by providing our customers these specially designed ingredients at cost-effective prices. Parallelly, we are committed to the use of natural raw materials in a drive to eliminate reliance on fossil fuel-based ingredients.
Our clients include many of the biggest names who rely on us to deliver – Always!
Our history
"To understand today and envision tomorrow, let's get to know yesterday"
---
1840
'James Robinson and Co' began manufacturing natural dyes on the Hillhouse Lane site. Early products included Orchil and Cudbear derived from lichens. Over the years, the range expanded to include the likes of Logwood, Sumach, catechu and many others extracted from natural products.
1849
James Robinson filed his first patent – 'a New Method of Preparing Orchil and Cudbear'. In the same year, a German merchant called Charles Hoerle became James Robinson's business partner.
1856
Birth of the synthetic dye industry - William Perkin serendipitously, but famously discovered the aniline dye Mauveine. The invention was a step change in the chemical industry - dyes could now be 'made' rather than 'extracted'. James Robinson and Co, however, continued to manufacture natural dyes into the 1890's
1860-1910
Business consolidated under James Robinson lineage.
1888
A brilliant young man, Sidney Abbey, who was 16 years old, started work for the company. Within 14 years he was the managing director.

1913
Just before the start of the First World War, the company began manufacturing Sulphur Black from dinitrophenol. Other colours followed - Sulphur Black, yellows and oranges went into Sulphur Khaki which was used on the cotton part of army uniforms. This entry into 'artificial dyes' was a turning point in the company's history.

1922
Sidney Abbey bought the company, which stayed in the hands of the Abbey family for the next 50 years.

As the popularity of synthetic dyes increased and demand for natural dyes shrunk. The company diversified and began merchanting aniline and alizarine dyes. James Robinson and Co now had a high reputation for its huge and successful range of colourfast Sulphol colours which would dominate production for the next 50 years.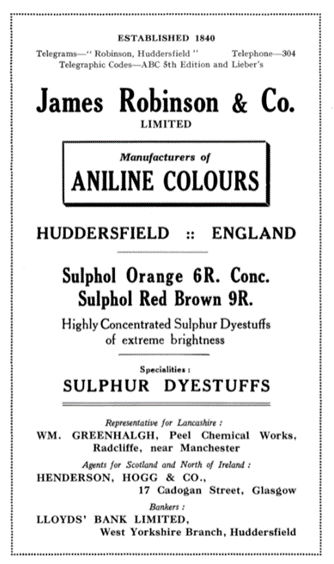 1960-1973
Many competitors pulled out of the sulphur dye business, leaving the company as the sole manufacturer in the UK. Work started on the production of speciality chemicals including those used in photographic development.

During this decade, the company, which had been owned by three generations of the Abbey family, was sold to Hickson and Welch Holdings Co Ltd, in Castleford. The company was awarded Queen's Award to Industry (Export).

1976
Another major turning point arrived when James Robinson and Co manufactured its first hair dye, toluene diamine sulfate. The company was now starting to make some of the products that it still offers today.
1987-1988
James Robinson was purchased by Holliday Chemical Holdings, now making the company part of a much bigger group, including neighbouring dye firm Holliday Dyes and Chemicals.

James Robinson & Co Ltd was renamed James Robinson Ltd.

1990-1992
The company collaborated with Pilkington PLC to make several novel photochromic molecules for use in the ophthalmic market. The company purchased a licence for access to Pilkiington's patents and began to develop the range of Reversacol photochromic dyes. This exciting range continues to expand today, with a wide array of colours and properties.

The growing range of hair dyes were given the brand name Jarocol which continues to command high quality brand equity today.

1994
The company purchased a manufacturing plant from Mallinckrodt in Dieburg, Germany. The site was renamed James Robinson GmbH and went on to make photochromic and hair dyes until its closure in 2007.
1998
The HCH group was bought out by Essex based holding company Yule Catto. James Robinson Ltd stopped manufacturing sulphur dyes to focus on speciality chemicals.
2006
The Queen's Award for Innovation was awarded for novel work on neutral colouring photochromic molecules.

2007
The Hillhouse Lane site was found to be no longer viable. Manufacturing in the UK was stopped and lab and office facilities were moved to a neighboring chemical site, Syngenta, formerly ICI. The old Hillhouse lane site was redeveloped and now houses a pub, hotel and industrial units.
2008
James Robinson Ltd was procured by the Hyderabad, Indian company, Vivimed Labs Ltd. The James Robinson Ltd business was later renamed Vivimed Labs Europe Ltd.
2019
Management buy out of the Specialities business from Vivimed Labs Ltd. The technical teams were relocated to new premises with larger, better and more modern facilities at Hexagon Tower in Blackley, Manchester.

2021
The company launched its Biotome division, its first dedicated Biotechnology R&D facility in Manchester. The goal of Biotome is the development and release of products for hair and skin care markets to complement the established Jarocol hair dye range. This establishment is part of the company's longer term pivot towards a greener future whilst keeping and respecting the traditions and expertise that have made it such a success in the past.

The company was renamed James Robinson Speciality Ingredients Ltd, thus continuing its long and varied colourful history.
Get in touch
---
The team at James Robinson are here to help.
If you have any questions or are in need of assistance, then please use the form on the right to get in touch and a member of the team will be in touch to help you as soon as possible.